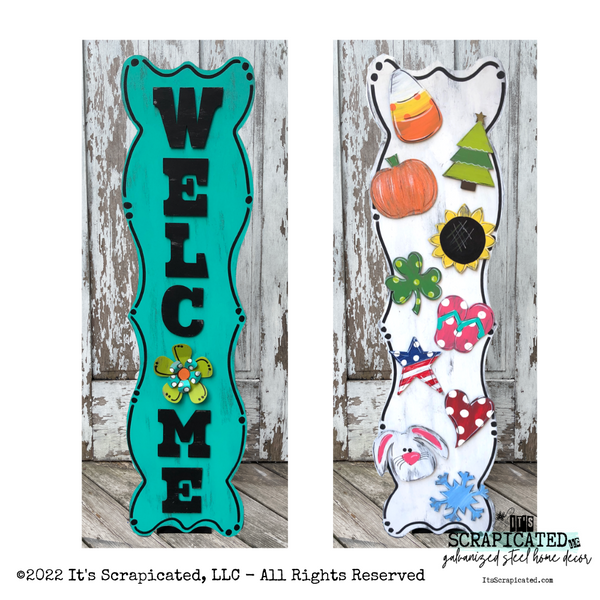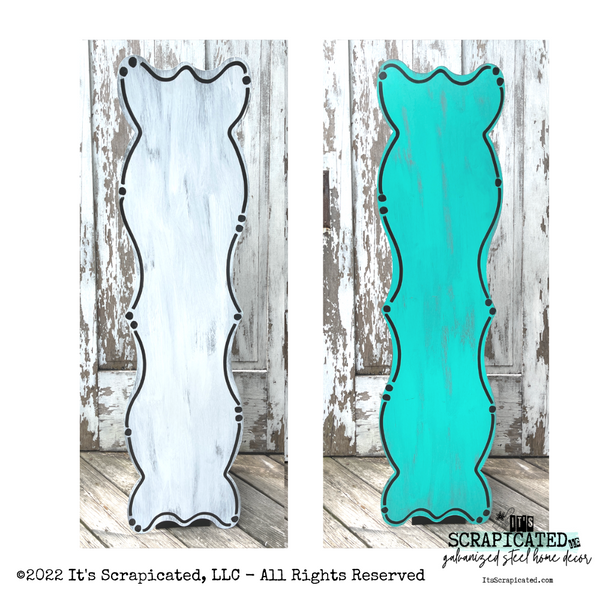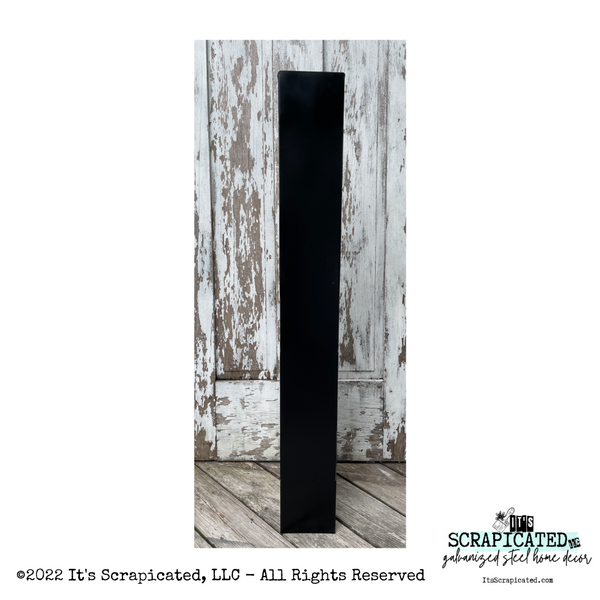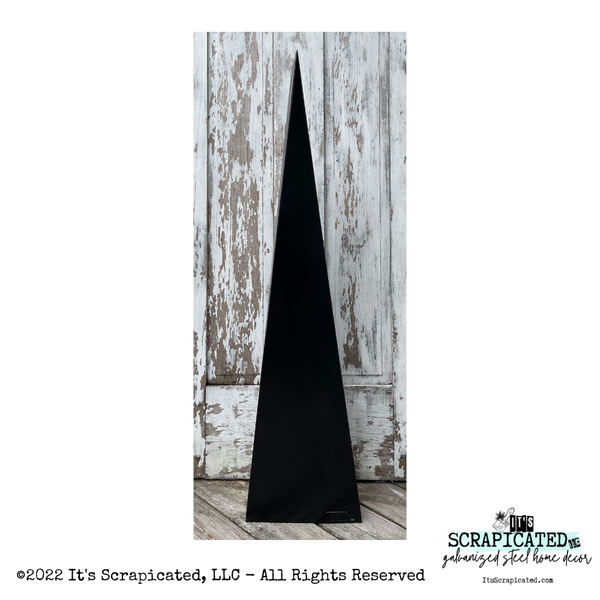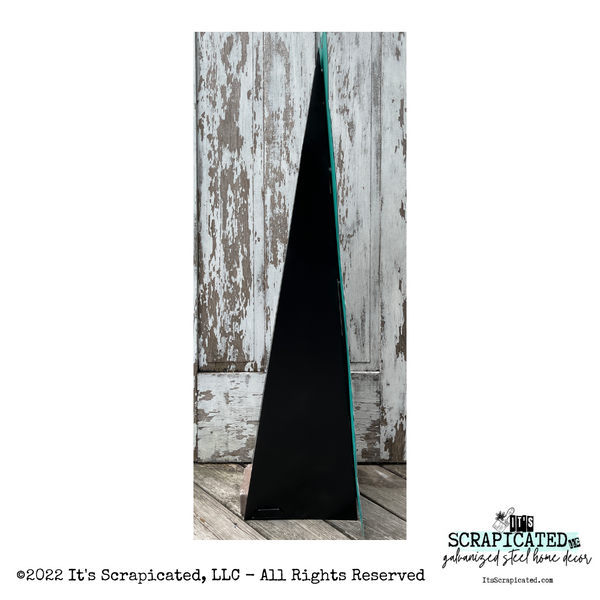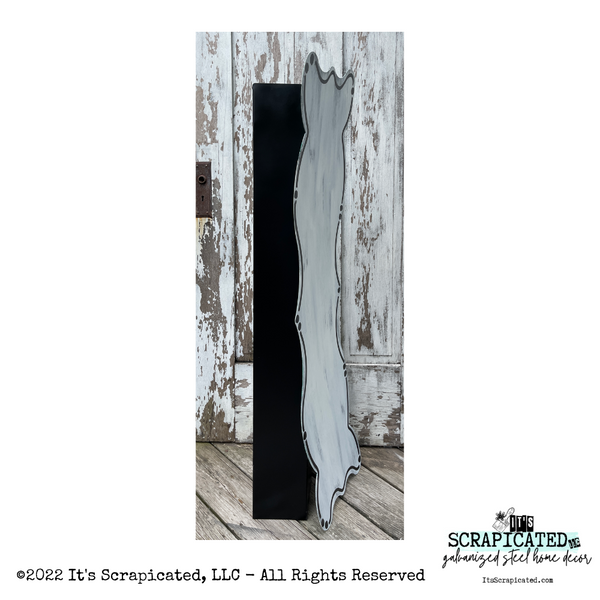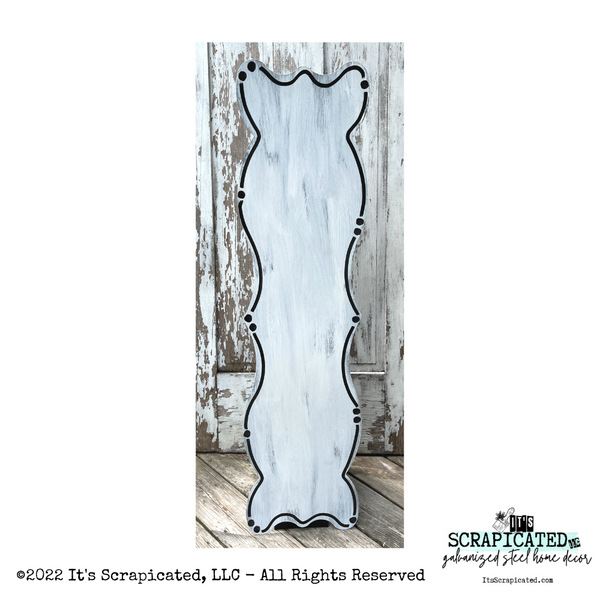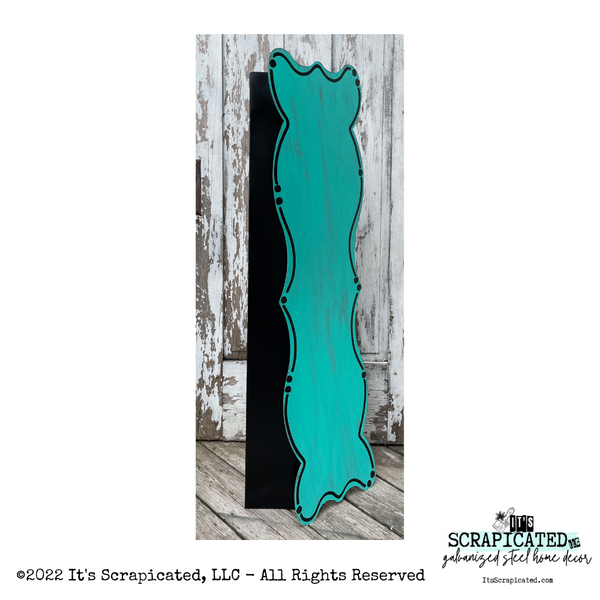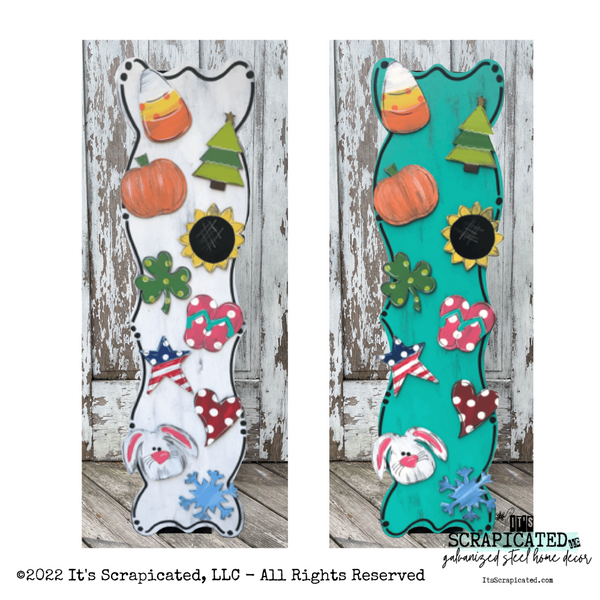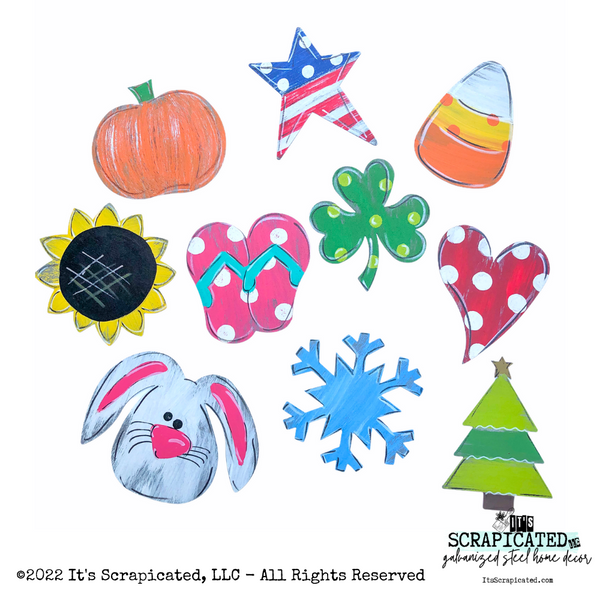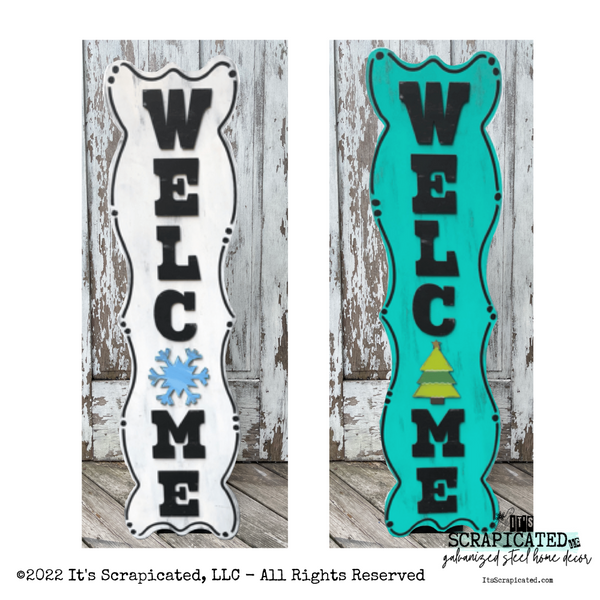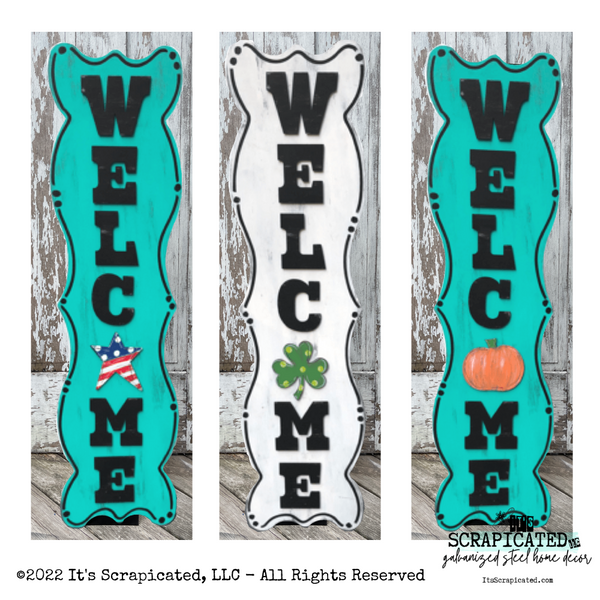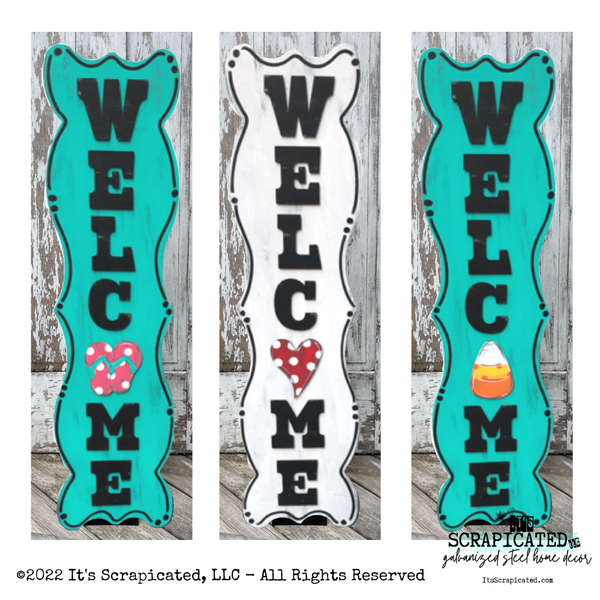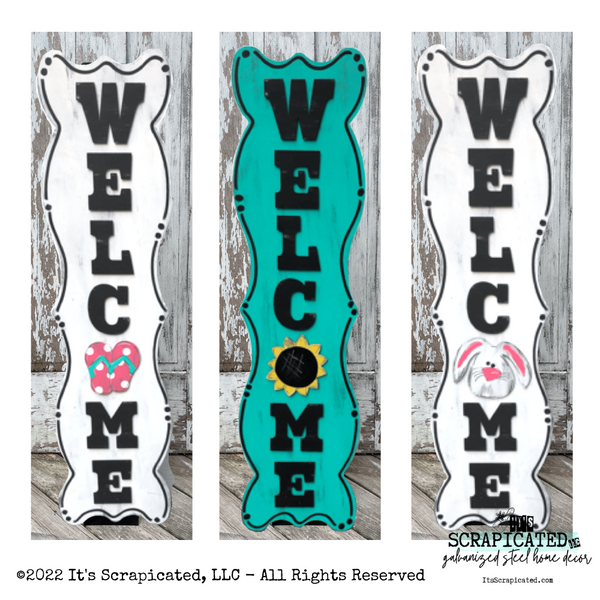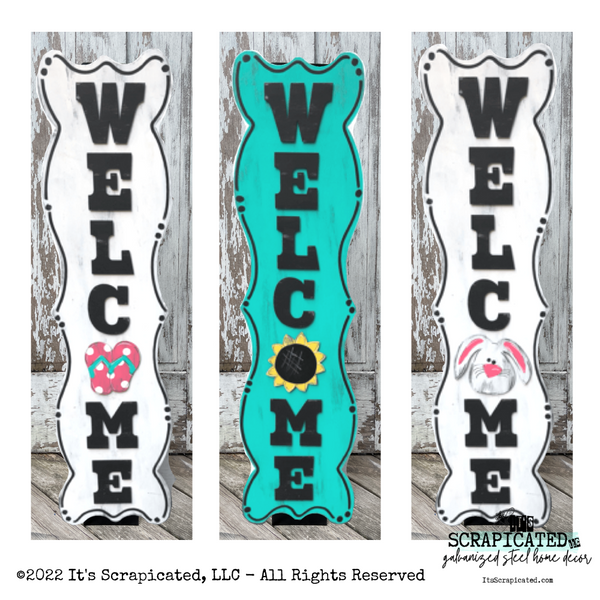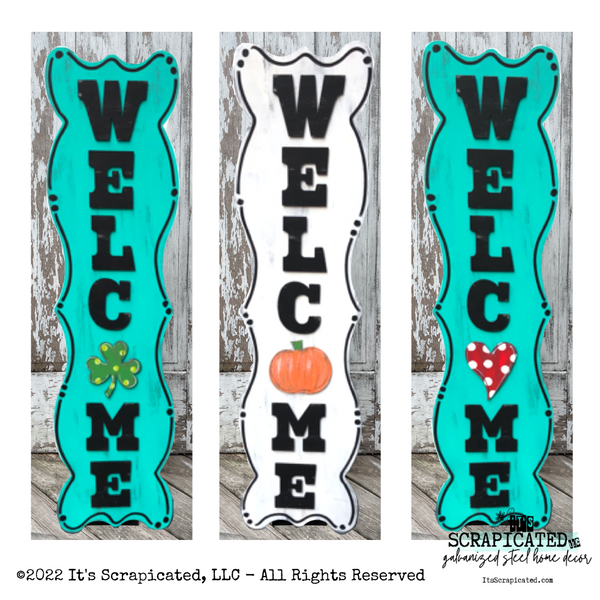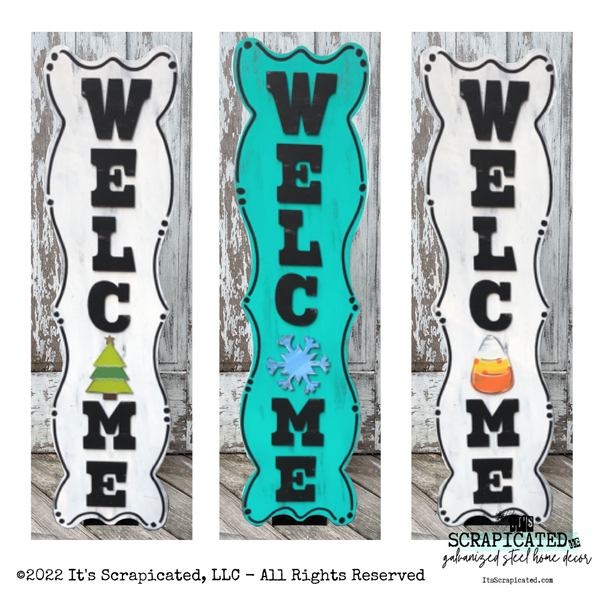 Get EVERYTHING you need to change out your Welcome sign for ALL the holidays & seasons in one BUNDLE!

Bundle includes:
Porch Candy® Complete Display Base
Porch Candy® - Welcome Design Set

Porch Candy® - Welcome Seasons Set (9 adorable shapes that change out for the flower "O" that is included in the Welcome Design Set)
Super Strong Magnet Set - Quantity of 30
--------
Our Complete Display Base - Cream on one side, signature teal on the other.
Our FOUR FOOT TALL free-Standing base* is a beautiful addition to your decor. While it was initially designed and created for your porch it looks beautiful pool-side, deck-side and even inside (imagine it tucked into a corner in your home or on your hearth - sheer awesomeness).
Double sided - Display your design on either side - you choose. One side is Teal, the other side is a warm beautiful cream and each colored panel is galvanized steel so you betcha it will withstand the elements of being outside.
Dimensions:
Overall: 48"H X 11.5" W X 12"D

Face Plate: 48"H by 11.5W
Porch Candy® Stand (Galvanized Steel): 44"H X 5.5"W X 11.5"D
Branded Weight: 2.5"H X 5.5"W X 5.5"D
Welcome Design Set
WELCOME just keeps it simple. Warm, friendly and well, welcoming! Features a beautiful double layered flower as the "O" and is perfect anywhere, anytime!
Dimensions:
Letters: 5"h by 5.5"w (distressed black)
Flower: Double layered with wire center (Lime, Teal, Orange) - 6" Diameter - See close up in pics
Welcome Seasons Set
WELCOME Season Set is a great addition to the Welcome Porch Candy®.
Interchanges with the "O" flower with the following:
The set includes:
Pumpkin 6"w x 5 1/2" h
Heart 5"w x 6" h
Star (flag) 5"w x 5"h
Candy Corn 6"w x 6"h
Bunny 7 1/2"w x 6"h
Christmas Tree 5"w x 7"h
Snowflake 6 1/2"w x 6"h
Shamrock 5 1/2"w x 6"h
Flip Flops 5 1/2"w x 6"h
*While we pride ourselves on shipping your order very quickly; please allow 7-10 days as each item is completely handmade just for you. :)
Packaged in our trademarked burlap bag for easy storage

Love it!!
I love what you've done!
The idea of having decorations for every season and the colors used are perfect! So easy to change to new look and minimal storage is a huge bonus!
This is such an amazing review Anita! You notice all of the things we were going for when we created Porch Candy®! Thank you so much and we are so happy you are happy!
It's Scrapicated, LLC
Love it!!
Absolutely in love with my Welcome sign and the cute seasonal pack...will definitely be buying more! #shoplocal
Front Entry Awesomeness!! 😎🌴
Received my porch candy base & welcome bundle here in beautiful SW Florida last night. Merry Christmas to me 😊
Opened the box this morning, everything was packaged very well for shipping.
Instructions for putting together were very easy.
It's now sitting by my front door & looks awesome!!
The only thing that makes me sad is I live at the end of a cul-de-sac so only my neighbors & guests will get to enjoy it as much as I do, not a lot of drive by traffic.
Highly recommend products from It's Scrapicatec, LLC!!
I love porch candy! I have it myself snd just bought one for my best friend. She loves it too!!
Fabulous gift!
I love this porch candy product! I bought it for my mom and had it shipped to her in North Carolina. She received it right on time, and had no issues putting it together. The instructions were super simple! She LOVES her porch candy and all her condo neighbors are jealous of her fun holiday decorations!