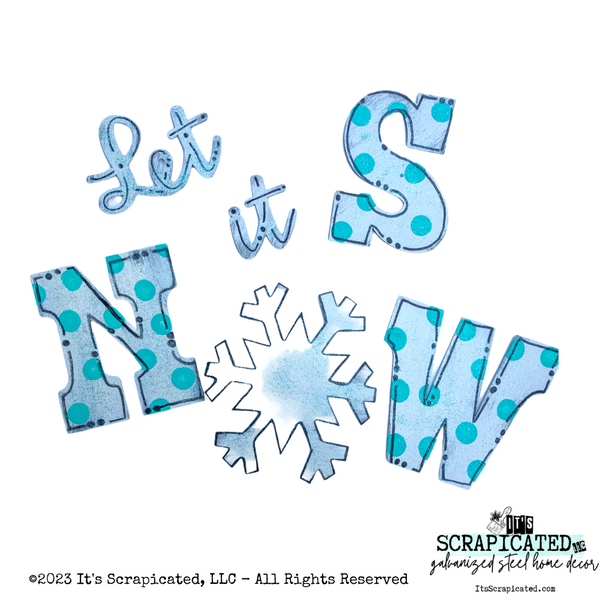 Porch Candy® is a completely changeable porch sign. Our porch sign is magnetic, reversible and makes the perfect sign to welcome your guests/enhance your curb appeal. One sign with so many designs.
LET IT SNOW DESIGN ONLY - DISPLAY BASE SOLD SEPARATELY; found here: Porch Candy® Base
Let it Snow design set includes cursive Let and it with letters S, N and W - the snowflake O completes the design. Painted cream with our signature teal polka dots dusted with teal glitter it looks amazing on both the teal and cream sides of the standard base.
Dimensions:
6 Pieces
Letters: 8"W x 7"H
Snowflake: 9" diameter
Let" 6 1/4"W x 4 1/4"H
It: 3"W x 3 1/2"H
Looks great with our Splatter Snowflake
All Porch Candy® is hand painted, please expect slight variations in appearance. All products are galvanized steel (no rust) and made to weather the elements.
Packaged in our trademarked burlap bag for easy storage.
While we pride ourselves on shipping your order very quickly; please allow 7-10 days as each item is completely handmade just for you. :)
It's Freezing!
Love the little extra shimmer from the glitter.
The shimmer is beautiful and looks just like fresh snow. We appreciate your kind words, Bobbie!
It's Scrapicated, LLC