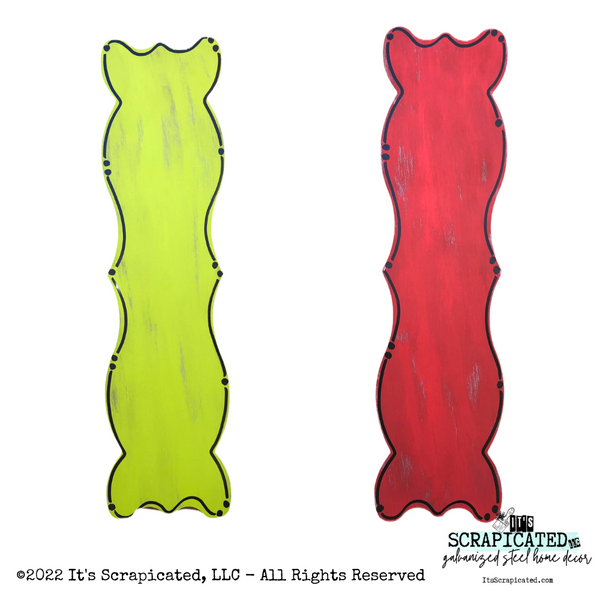 Porch Candy® is a completely changeable porch sign. Our porch sign is magnetic, reversible and makes the perfect sign to welcome your guests/enhance your curb appeal. One sign with so many designs.
GALVANIZED STEEL FACE PLATE ONLY! PORCH CANDY® STAND NOT INCLUDED

If you are looking for complete display base, please click one of the following:
PORCH CANDY® COMPLETE DISPLAY BASE (ORIGINAL CREAM & TEAL)
PORCH CANDY® COMPLETE DISPLAY BASE (PICK YOUR COLORS)
Double sided - Display your design on either side - YOU choose the colors! We have 18 colors to choose from! Each colored panel is galvanized steel so you betcha it will withstand the elements of being outside.
Pick your shape! Choose the face plate attachment to either be Curvy or Rectangle.
Red and Lime Face Plate Attachment in photos is shown as an example. Choose your own colors!
Face Plate comes with 10 super strong magnets.
Dimensions:
45"h by 11.5"w
A real pop color for the porch
'Love having lots of choices when displaying my porch candy sets and always get lots of compliments from neighbors. Every product I've ever purchased has held up well in all types of weather.
We LOVE to hear this Bobbie! Thank you so much!
It's Scrapicated, LLC