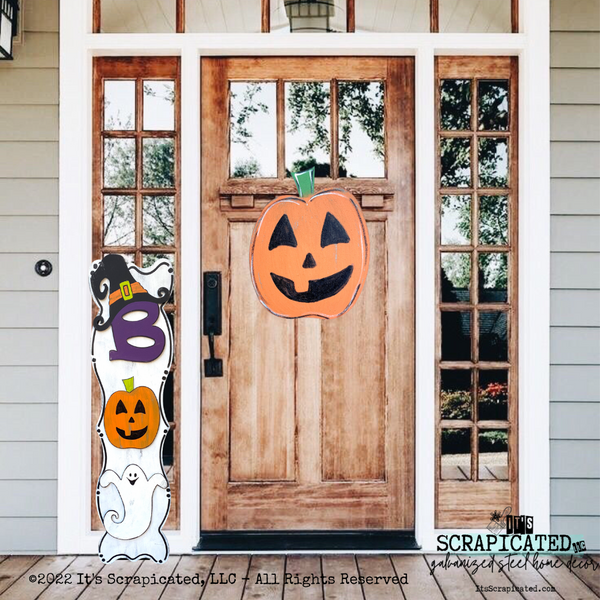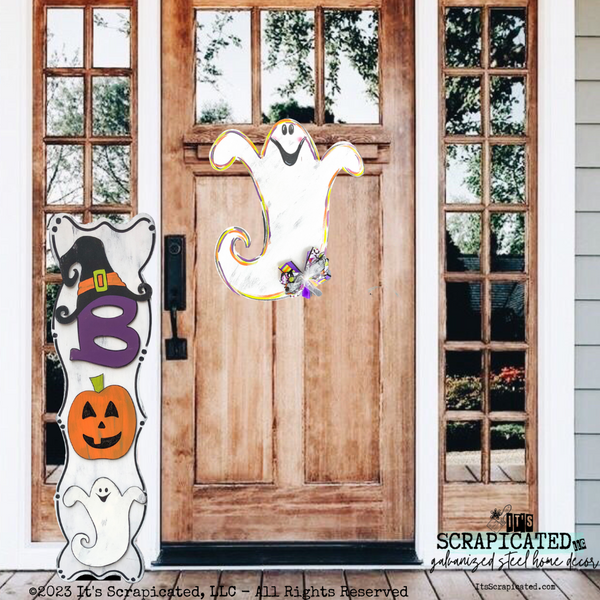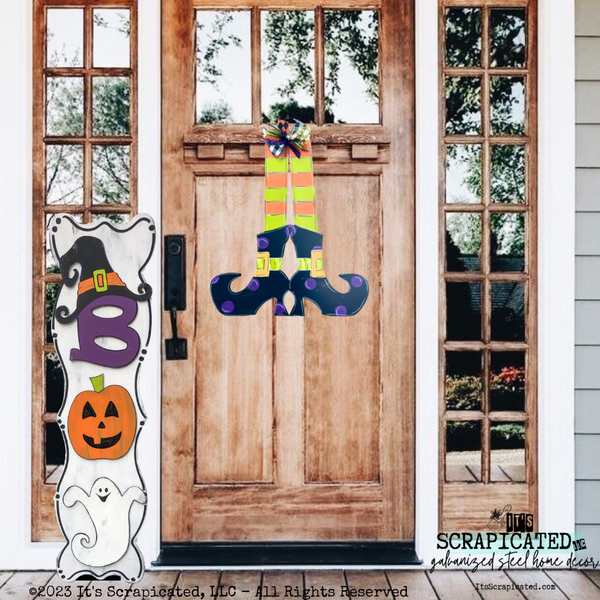 Porch Candy® is a completely changeable porch sign. Our porch sign is magnetic, reversible and makes the perfect sign to welcome your guests/enhance your curb appeal. One sign with so many designs.
BOO DESIGN ONLY - DISPLAY BASE SOLD SEPARATELY; found here: Porch Candy® Base
Welcome Halloween with this adorable B-O-O, the purple B is sporting an adorable witches hat painted black with an orange hat band and lime-a-licous buckle, the O's are a must have jack-o-lantern made from our tall pumpkin shape and our adorable ghost. BOO! to you!
Dimensions:

3 Pieces
B witches hat measures 14"H x 11 1/2"W
O pumpkin measures 8 1/2"W x11"H
O ghosts measures 12 1/2"W x 11"H
All Porch Candy® is hand painted, please expect slight variations in appearance. All products are galvanized steel (no rust) and made to weather the elements.
Packaged in our trademarked burlap bag for easy storage.

While we pride ourselves on shipping your order very quickly; please allow 7-10 days as each item is completely handmade just for you. :)
Pairs Perfectly with -

Boo porch Candy
I, admittedly, do not love Halloween. This design is so cute though, I can totally get on board! I have received so many compliments!
Shelly,
We love BOO too! Thank you so much for your review!
It's Scrapicated, LLC
Great Product
The boo porch candy set is so adorable. I am working on adding one for every season. I now live in South Carolina and it is so great to be able to purchase something from home and get all the compliments from my neighbors. The shipping is so quick and I feel like I get great quality at a good price point.
Boo design set
This Boo design set is absolutely adorable and looks amazing. Painted perfectly. I get so many compliments on this design